"What mattered most to me was the multidisciplinary approach"
Thomas Rölli, salutatorian of his class at the University of Bern Graduate School of Climate Sciences, has been awarded a 2018 Oeschger Young Scientist's Prize. He sees his professional future in the private sector.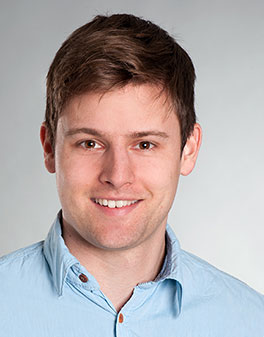 Freshly minted Swiss climate scientist Thomas Rölli is in the right place at the right time. As an intern researching atmospheric peril at reinsurance company PartnerRe in Zurich, he's working to optimize a crop yield model. He knows his way around models; after all, for his master's thesis he developed a probabilistic shallow landslide model. More importantly, however, with his new master's degree he feels well prepared for working in a varied environment.
"In reinsurance, you deal with relatively broad subject areas," he says. "With a climate master's you are very well equipped. During our studies we had to specialize in a certain area, but we also learned to think in terms of the bigger picture."
It was precisely this approach that prompted Thomas Rölli to pursue a master's degree in climate sciences in Bern, having earned his bachelor's degree in geosciences with a major in meteorology. "When I chose this course of study, what mattered most to me was its multidisciplinary approach. We were able to choose from a huge variety of lectures – the offer was so broad that I couldn't attend all the lectures that interested me."
During his master's studies, the sporty man from central Switzerland soon realized that he wanted to focus on physics and the atmosphere. Nevertheless, he also attended economics lectures and a paleolimnology excursion – a great enrichment, he says. Thomas Rölli sees his professional future not in the academic world, but in the private sector. "I really like this internship and would like to continue working in the reinsurance industry."
(February 2019)