Double challenge for the intrepid
Chantal Camenisch wants to go all the way up the university career ladder – thanks in part to her research stints abroad. The environmental historian currently lives as a guest researcher in Rouen, France, and will soon head to York in the north of England. Of course the academic nomad is bringing her young family along.
On May 30, 1431, Joan of Arc died here – on a blazing pyre. We're in the historical centre of Rouen, taking in the half-timbered houses lining the market square and talking about witches being burnt alive. Why, wonders Chantal Camenisch, were so few – apart from Joan of Arc – burnt at the stake in Rouen, yet so many in Bern? Perhaps this has to do with the Bernese climate historian's field of work, because in Switzerland, witches were accused of conjuring hail, among other things.
If you're walking around what used to be France's second largest city with Chantal Camenisch, you'll come across many references to the weather and climate of the past – for example, at the Place de la Haute Vieille Tour, where grain, a key product of medieval and early modern times, was once traded. The grain prices used to be at least as important as today's oil prices – dependent not only on wars, but also on the weather. And a few steps farther along the banks of the Seine, the lifeline of the once important port city, we would have been able to marvel from the quay at a wobbly pontoon bridge in the 17th century. This was built to replace an old, fixed bridge that kept being damaged by floods. However, during the chillingly cold years of the so-called Maunder Minimums, drift ice became a problem with the new bridge.
Tour of the archives with a Postdoc.Mobility fellowship
All of these places and facts are closely linked to the big research project for which the young historian is spending a year each in the archives of Rouen and York, and then several months in Leipzig, Germany, and finally back in Bern. The project is called "Climate and society in pre-modern times: a comparative study on adaptation to extreme weather and climate change in the Swiss midlands, Yorkshire and Normandy from 1315 to 1715". OCCR researcher Chantal Camenisch wants to find out how the three regions were affected by the natural variability of the climate – and with which strategies society reacted to extreme weather events and the changing climate. Were there parallels, differences or even knowledge transfers?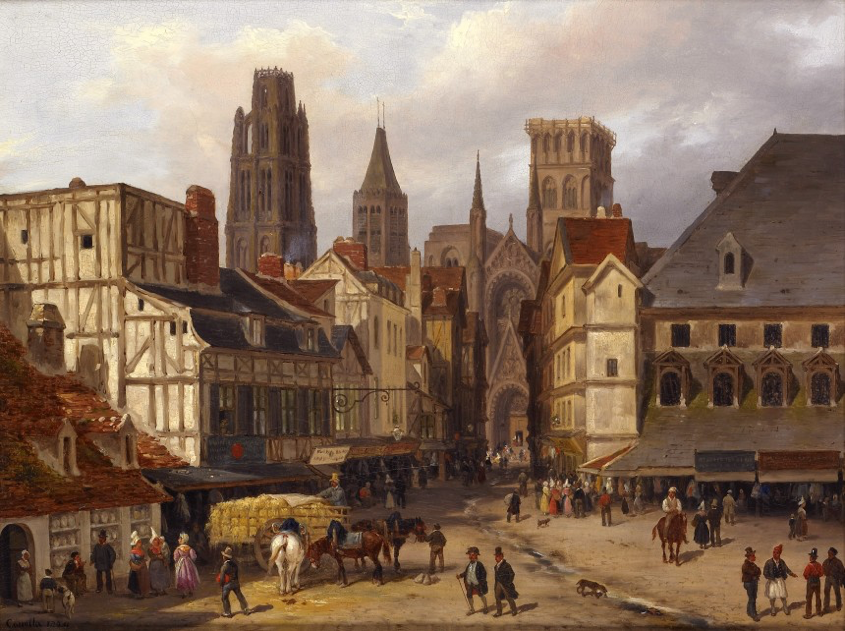 For this innovative project – no historical study has looked at the climate in this way – Chantal Camenisch has received an "Advanced Postdoc.Mobility" grant from the Swiss National Science Foundation. This should boost her academic career. She isn't doing this research project just to acquire additional expertise, but also to intensify her international networking and later submit a postdoctoral thesis at the University of Bern. She's still trying to get an overall picture of her topic. "What makes the project special is the comparison," says Chantal Camenisch at her workplace at the University of Rouen campus high above the city. "I'm interested in why one society was better at coping with extreme events such as floods, storms or extraordinary cold better than another." That's why the historian is currently poring over tens of thousands of pages of minutes from the city council of Rouen, written in Cauchois, the local dialect. With luck, she'll find entries like that from May 28, 1573, which mentions how the authorities commissioned construction work and paid the hungry and poor workers in bread: "chacun 1 pain cuyt et rassis, du poix de 16 onces". During this famine, caused by weather among other things, 1,200 men, 600 women and 600 children, aged 8-14, were fed this way.
However, the scope for such relief was limited in Rouen as the city didn't own land outside its walls; therefore, it was forced to take out a loan to buy grain in Brittany. Quite different in Bern, which kept strategic inventories in its granary; this was replenished regularly thanks to the grain tithed by the farmers.
Based on these minutes, letters and chronicles, it's still far too early for Chantal Camenisch to to draw conclusions about the coping strategies that people employed.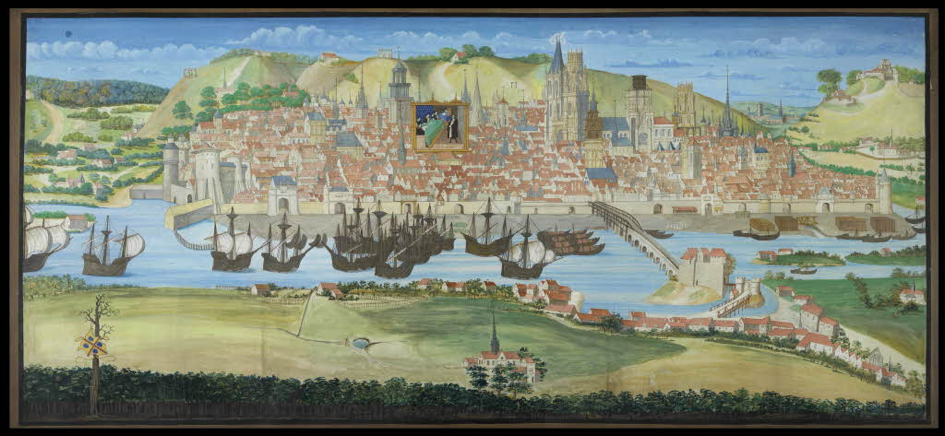 Her sources in Rouen have proven to be very useful, but whether she'll find comparable information about the interaction between humans and the climate in the archives of York, and Bern remains to be seen. Besides, climatic aftereffects don't always have consequences for society: bad harvests don't necessarily lead to famines, and these don't necessarily bring legislative changes. "A lot of things come together only at the end of a research project, after you juxtapose things," says the historian optimistically. "For the moment I have first ideas, but nowhere near an overview."
The family is part of the adventure
The multi-year stay at foreign archives and universities is a challenge not just for Chantal Camenisch, but also for her family. The 39-year-old is married and has a six-year-old son and a two-year-old daughter. So understandably, the family is a part of the adventure. Husband Patrick, a high school teacher, has quit his job in Fribourg. In Rouen he's a house husband who gives German lessons and makes contacts at the playground and local café. The researcher is aware that this style of role sharing is still exceptional – at least in Switzerland. But she doesn't feel that her family model is exotic; she and her husband have always supported each other, and the roles are certain to change again. Chantal Camenisch speaks as openly about her private life as she does about her career planning. The coveted "Advanced Postdoc.Mobility" fellowship didn't just fall into the lap of the ambitious researcher. She went for it very specifically, grooming her publication list carefully when applying to the Swiss National Science Foundation. These included, among other things, publications in English – not a given in her field. And in her application she noted that it would be a "next step in her career" and said she wanted to "sharpen her scientific profile" to become more "competitive" in research and teaching.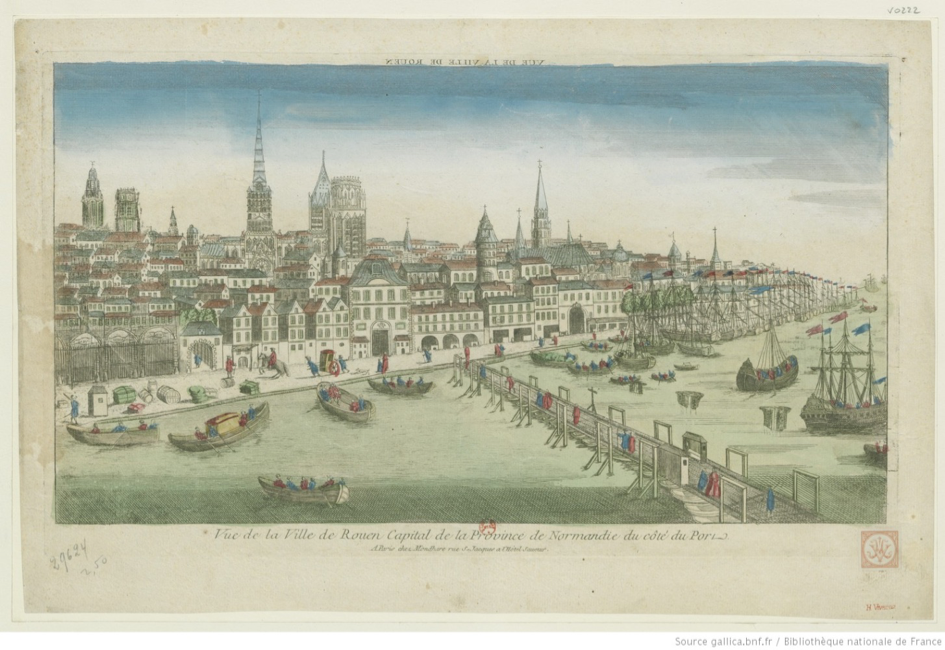 Last but not least, Chantal Camenisch did some clever networking. In 2014, she and two other young researchers organized an interdisciplinary workshop on the so-called Sporer Minimum – a period of especially low solar activity in the 15th and 16th centuries. For this she also invited internationally known researchers who later advised her on applying for the research grant. With success, as it turned out. "I didn't know that it could be so much fun to take control over one's own career," she laughs over a cup of machine-made coffee at Rouen's university campus.
"An incredible privilege"
How this European research tour will eventually influence Chantal Camenisch's career remains to be seen. There are no guarantees on the way up the academic career ladder. That's why only one thing counts for now: "It's an incredible privilege to spend two or three years dealing exclusively with sources of information." Pure pleasure, asserts the historian. And you believe her when she cites, for example, the passages in the council minutes on the king's upcoming visit – including the debate over which colour the councillors of Rouen should wear for the occasion.
(May 2018)