General News
Events
People
General News
New leadership at the OCCR
The OCCR has a new president. After eight years of duty, Fortunat Joos has handed over the presidency to Thomas Stocker. In a brief address at the OCCR's last general assembly, Thomas Stocker stressed that in his new role he would - among other tasks - represent the OCCR vis-à-vis the University of Bern but that most off all, he intended do be a president "approachable for all OCCR members". He then acknowledged the work of his predecessor and mentioned "five important milestones, that have shaped the functioning and positioning of the OCCR nationally and internationally". Among the highlights of Fortunat Joos's presidency his successor stressed the establishment of the Mobilar Lab as well as the Mercator professorship and the ICDC10 conference earlier this year in Interlaken, "an extremely exiting conference conference under Fortunat's management".
The OCCR thanks Fortunat Joos for his great commitment and wishes him all the best for the future.
University Board of Directors approves OCCR's evaluation report
On a regular basis, the OCCR has to give account of his work to its funder, the University of Bern. The summary of this report for the 2014 – 2017 period reads: "The Oeschger Centre has met its high level objectives and in many areas these goals were clearly surpassed." The University Board of Directors shares this positive view and has approved the OCCR's self-evaluation report.
The Oeschger Centre in the media
The OCCR is becoming ever more sought after as a source of information for media representatives – not only nationally but internationally as well. Recently, the management centre was for example approached by the German TV station ZDF and the New York Times. In his query, the NYT journalist wrote: "Essentially, I am comparing the politics of global conservatives to that of their American counterparts on the issue of climate change. Specifically, I think an American audience will find it fascinating that even conservative politicians in Switzerland and elsewhere fundamentally believe in climate change and support promote policies to combat the issue."
OCCR members and their work were also prominently featured by Swiss media over the last months. Guido Felder and Rolf Weingartner (Hydrology group) made it to the front page of Der Bund, Olivia Rompainen (Climate Impact group) was featured in a profile story by Radio SRF and Mathias Erb (adjunct researcher) gave a background interview to the magazine BERNpunkt. See our press coverage page for the most recent articles referring to the Oeschger Centre.
Master program in full swing
The Graduate School of Climate Sciences has successfully started the autumn semester with a 3-day introductory workshop at ETH Zurich and at the University of Bern. Besides an apéro riche offered by the Climate Sciences Student Council, the new students highly appreciated the presentations by supervising faculty and the ClimateAlumni. This year, the MSc program has accepted 17 new MSc students with diverse and interesting backgrounds - three people specialize in history, three in economics and there are a number of biologists and geoscientists. This year's class features Latin American and Suisse Romande connections, and it includes a number of former BSc students from the University of Bern.
Container3 - a new outreach concept proves successful
More than 3000 people have seen Container3, a touring exhibition on climate research, presented and organized by the OCCR. The show, which was installed in sea containers, comprised audio visual and interactive presentations on the work of six OCCR research and toured city districts of Bern from mid-August to mid-September. The exhibition was realized in cooperation with the city of Bern which presented topics related to energy and mobility in its own containers. At the opening of the exhibition on Casinoplatz, Christian Leumann, rector of the University of Bern, underlined the importance of the co-operation between the University and the city of Bern: "Bernese scientists", he said, "develop pioneering contributions to a better understanding of climate change. Their findings help to face climate change and they should enter in action-taking on a local level as well."

New OCCR presentation template
The OCCR presentation template (Power Point) is now also available in widescreen format (16:9). Have a look at the different OCCR templates on the Intranet section of our website.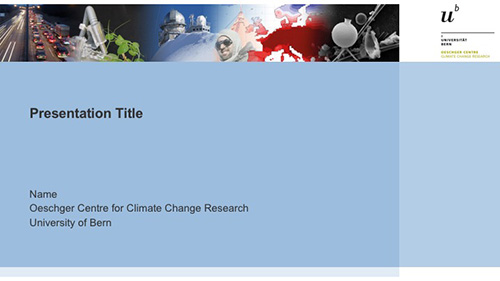 Events
Successful 14C/MICADAS workshop
On 13-15 September 2017, the 1st Bern 14C/MICADAS workshop gathered around 50 researchers to discuss 14C applications, future technological opportunities and improvements to age calibrations. The participants – half of them were students – came from the University of Bern, ETH Zurich, EAWAG as well as from AWI Bremerhaven, the University of Oxford and Ionplus, a private firm in Zurich. After more theoretical discussions, the workshop closed with a more practical part, a training course on age modelling with OxCal lead by Christopher Bronk Ramsey, the Director of Oxford Radiocarbon Accelerator Unit.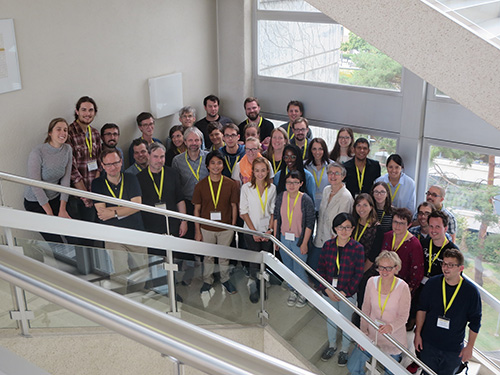 Climate Career Evening - 2nd edition
The second OCCR Climate Career evening will take place at the Institute of Geography (Hallerstrasse 12) on 26 October 2017 at 5 p.m. The Graduate School and the Climate Sciences Student Council have invited nine ClimateAlumni for presentations and apéro talks. They will speak about their careers since they left the Graduate School. Registration for this event will soon be open.
PAGES workshop on Volcanoes, Climate and Society
The PAGES working group Volcanic Impacts on Climate and Society (VICS) organizes a workshop on12 - 14 January 2018, University of Arizona, Tucson, Arizona USA. The 3rd meeting of the working group is focused on collaborative multidisciplinary preparation of the case study manuscripts proposed and outlined at the 2nd workshop in Zaragoza. Additionally, it will include an expanded exploration of avenues for outreach.
Extending the Climate-Carbon Cycle Feedback Framework
A workshop on "Extending the Climate-Carbon Cycle Feedback Framework and Developing Emergent Constraints" will be organized at the University of Bern in spring 2018 by Thomas Frölicher. The workshop will develop these concepts based on CMIP6 / C4MIP simulations that will be available starting in 2018. A high-profile paper is expected as an outcome of the workshop. Details on program and registration will follow.
Early Instrumental Meteorological Series
A conference and a workshop on early instrumental meteorological series will take place at the University of Bern on 18-21 June 2018. It is jointly organized by Stefan Brönnimann (Climatology group) and Christian Rohr (Environmental History and Historical Climatology group). The goal of this event is to discuss the state of knowledge on early instrumental meteorological series from the 18th and early 19th century and provide an overview on how far back future gridded data products such as global (or regional) dynamical reanalysis will ever be able to go.
Details on program and registration will follow.
Summer School 2018 on Earth system variability through time
The next Swiss Climate Summer School will take place in Grindelwald from 26 to 31 August 2018. It will focus on the theme "Earth system variability through time", this theme has been chosen due to its paramount importance in terms of both scientific challenges and pressing societal concerns. Always with a focus on processes, observations and modeling, the specific topics include: Earth system variability and climate change on glacial-interglacial cycles; climate change forcings and feedbacks: past, present, future; the +2°C world and beyond; tipping points, rapid changes and extreme events.
People
Hubertus Fischer elected new co-chair of IPICS
Hubertus Fischer (Past Climate and Biogeochemical Studies on Ice Cores group) was elected as the new co-chair of IPICS (International Partnerships for Ice Core Science). IPICS is a planning group composed of ice core scientists, engineers, and drillers from 24 nations. After the completion of major projects in Greenland and Antarctica over the last 15 years, the international ice coring community is planning for the next several decades. In the view of the costs and scope of future work a coordinated international collaboration which the IPICS is developing is crucial. It is supported by SCAR (Scientific Committee on Antarctic Research), where it is an Expert Group under the Physical Sciences Group, PAGES and IACS (International Association of Cryospheric Sciences).
Lukas Heinzmann wins environment and history poster prize
Lukas Heinzmann (Environmental and Climate History group) has won the "Environment and History Poster Prize" at the Biennial Conference 2017 of the European Society for Environmental History (ESEH) in Zagreb for his poster entitled "Climate reconstruction in north-east Switzerland during the Late Maunder Minimum – An analysis of the weather observations in the Einsiedeln monastery's diary between 1670 and 1704".
Annelie Holzkämper leads climate change and agriculture group
Annelie Holzkämper, who is a Senior Lecturer with the Air Pollution/Climate group, carries on the research activities in the area of climate change and agriculture within the OCCR after the retirement of Jürg Fuhrer in August. She leads the corresponding research group based at Agroscope and will also hold lectures within the Graduate School of Climate Sciences at the University of Bern. Annelie has recently completed her habilitation thesis entitled "Integrated adaptation of agro‐ecosystems to climate change" and is a Privatdozent (PD) in the field of Geoecology.
Fortunat Joos elected AGU Fellow
The American Geophysical Union (AGU) elected Fortunat Joos (Earth System Modeling – Bio-Geo-Chemical Cycles group) to be AGU Fellow. AGU Fellows are recognized for their scientific eminence in the Earth and space sciences. This distinction recognizes Fortunat's leadership and long-term impact in global-scale carbon cycle research.
Thomas Stocker awarded Marcel Benoist Science Prize
OCCR president Thomas Stocker (Earth System Modeling – Atmosphere Ocean Dynamics group) has been awarded this year's Marcel Benoist Science Prize which is regarded as the most important Swiss Science Prize.
Read the press release by the Federal Department of Economic Affairs, Education and Research EAER.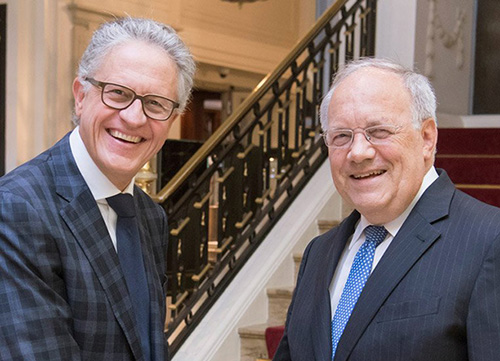 Eric Strobl awarded Mercator professorship
Eric Strobl has been awarded a full-time Assistant-Professorship (tenure track) in environmental and climate economics. The position is jointly founded by the Stiftung Mercator Schweiz and the University of Bern. Eric Strobl will be part of the Department of Economics and a member of the OCCR, and start his new position as of 1 October 2017. Over the past ten years, Eric's research has been focused on climate and environmental economics. His current work assesses the economic implications of extreme weather. In Bern, a primary focus will be on the role of tropical storms. Results from the research will serve as information to be used in formulating government and insurance schemes to deal with these negative shocks. Eric holds a BA in Economics from Pennsylvania State University, a MA in economics from Georgetown University, and a PhD from Trinity College Dublin. He is currently Professor in Economics at Aix-Marseille University.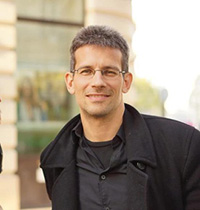 Researchers who have recently joined the OCCR:
Hélène Barras is a new PhD with the Climate Impact group. She did a BSc in Geosciences at the University of Basel and a MSc in Climate Sciences at the University of Bern (Thesis Title: Verification of strong wind gusts in COSMO-2). After this, she joined meteoblue, in Basel and MeteoSwiss in Zurich for internships.

| | |
| --- | --- |
| | Linda Frossard is a new PostDoc with the Climate Impact group. She gained her PhD at EPFL. |

Ieva Grudzinska-Elsberga is a Swiss Government Excellence Scholarship holder for 2017/2018 at the Aquatic Palaeoecology group. She obtained her PhD at the Institute of Geology at Tallinn University of Technology. In her PhD research on "Diatom Stratigraphy and Relative Sea Level Changes of the Eastern Baltic Sea over the Holocene", she applied diatom analysis to determine the transition from marine to freshwater environment in isolated lake basins that once formed part of the Baltic Sea to understand the uplifting history of the region. Her present project "Tracking prehistoric human impact on water quality in Swiss Plateau lakes" aims to reconstruct human-induced and natural trophic state changes in two Swiss lakes during the Neolithic period based on a new high-resolution diatom record.

| | |
| --- | --- |
| | Jurek Müller is a new PhD with the PhD Earth System Modeling – Bio-Geo-Chemical Cycles Group. He did his MSc at Ludwig-Maximilians-Universität in Munich and Freie Universität Berlin. |

Luyao Tu is a new PhD with the Lake Sediments and Paleolimnology group. She gained her MSc of Engineering at the University of Science and Technology of China (USTC).
Kristy Woodard is a new PhD with the Air Pollution / Climate group. Her research interests are in Wetland restoration, peatland ecosystems, biogeochemistry and climate change.

| | |
| --- | --- |
| | Johanna F Ziegel is a new scientific staff member with Mathematical and Applied Statistics Group. Her research interests are in statistical forecasting, risk measures, copula theory, positive definite functions and stereology. |
A warm welcome to all of you!
Researchers who have recently left the OCCR:
Stefan Hunziker, who was a PhD with the Climatology group is looking for a new position.
Lorenzo Menichetti, who was a PostDoc with the Air Pollution/Climate group, moved on to Swedish University of Agricultural Sciences.
Johannes Schindler, a former PhD with the Environmental Chemistry Group (Margit Schwikowski) is now bringing forward his own company as a mountain guide.
Mikhaël Schwander, who was a PhD with the Climatology group, is looking for a new position.
Carla Terrizzano, who was a PostDoc with the Biogeochemistry and Paleoclimate group, has left the Institute of Geography for new challenges.
All the best for your future career!