General News
Events
People
Publications
General News
Lessons about a future warmer world using data from the past
A workshop in Bern in April 2017, which was funded by PAGES and the OCCR on the Past Global Changes integrated activity "Warmer Worlds", has now led to a publication in Nature Geoscience. "Warmer Worlds" uses paleoclimate evidence to assess a future warming. The assessment of past warm periods by an international team of 59 scientists from 17 nations, shows that in response to the warming, ecosystems and climate zones will spatially shift, and on millennial time scales, ice sheets will substantially shrink. The compiled evidence from the past suggests that, even with a global warming limited to within 2°C above preindustrial levels, as aimed at in the Paris Agreement, climate zones and ecosystems will shift, rapid polar warming may release additional greenhouse gases, and sea-level will rise by several meters over several thousand years. These observations show that many current climate models designed to project changes within this century may underestimate longer-term changes. (Read the University of Bern's press release on the publication.)
One of the coordinators of "Warmer Worlds" is Hubertus Fischer (Past Climate and Biogeochemical Studies on Ice Cores group). He was prominently featured in a story on the new findings by "Tagesschau", the primetime news program of Swiss Public TV (SRF1).
A collective reminder for forgetful Switzerland
The Mobiliar Lab for Natural Risks aims to better inform authorities and the public about the risks associated with flooding. For this reason, it's creating an interactive online database of images illustrating floods: the "Collective Flood Memory". The project website publishes flood photos from all over Switzerland. The collection should continue to grow with the help of the general public, which is called upon to submit its own pictures on the interactive website at www.ueberschwemmungsgedaechtnis.ch.
Read more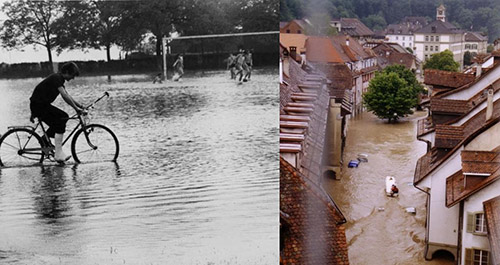 Research Station Jungfraujoch officially certified
The OCCR research group Environmental Isotopes and Gases plays a prominent role at the High-Alpine Research Station Jungfraujoch. The research station is now officially certified within the framework of the European research infrastructure «Integrated Carbon Observation System» (ICOS). ICOS provides data to better understand the global carbon cycle and how human activities affect it. The backbone of ICOS is a network of stations that have to meet the highest quality standards. Read more
Swiss Hail Network launched
The Mobiliar Lab for Natural Risks has started with the construction of the Swiss Hail Network, a fully automatic measuring network. The 80 sensors are installed in the three regions of Switzerland with the highest probability of hailstorm occurrence. A number of twenty-five sensors will initially be installed in the Napf Region, with a further 15 to follow in this region, 25 in the Jura and 15 sensors in Southern Ticino by spring 2020. For the first time, this network will record the impact energy, the grain size, the distribution and the precise time of hailstorms. In doing so, it will create a data set to increase the understanding of hailstorms. The new insights will improve the monitoring, the measurement, the warning, as well as the short-term forecasting and the climatology of hailstorms. The project aims to record as many hail incidents as possible in order to reduce hail damage in the long term. The Hail Network will be operated over a period of eight years.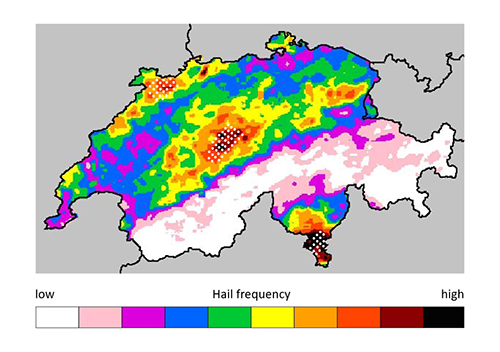 Container3 in the University of Bern's annual report
Container3 was a touring exhibition on climate research, presented and organized by the OCCR in 2017. The exhibition is prominently featured in the University of Bern's annual report 2017. The show, which was installed in sea containers, comprised audio visual and interactive presentations on the work of six OCCR research and toured city districts of Bern. The exhibition was realized in cooperation with the City of Bern, which presented topics related to energy and mobility in its own containers.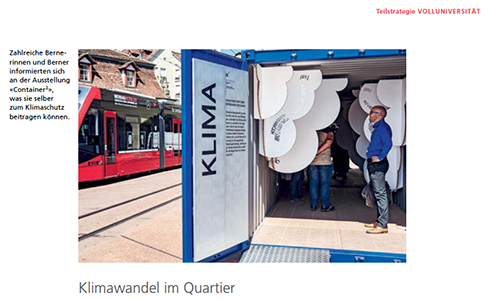 New financial means for the Bretscher Fonds
The Dr Albert Bretscher Fonds for climate and air pollution research has received additional financial funding. It received CHF 5 Mio. out of Albert Bretscher's legacy. The Bretscher Fonds will now be able to finance a new PhD thesis; a call for propositions will be launched later this year.
Events
OCCR Plenary Meeting on 14 September 2018
The next OCCR Plenary Meeting will take place on Friday, 14 September 2018 (14 – 17 h), details on location and program will follow shortly. The next but one Plenary Meeting is scheduled for Thursday, 14 February 2019 (14 – 17 h). Save the dates!
Workshop on carbon feedbacks in the climate system
On 25 – 27 April 2018, the OCCR group Ocean Modelling organized a workshop within the WCRP (World Climate Research Programme) Grand Challenge "Carbon feedbacks in the climate system". A core objective of this so called "area of emphasis in scientific research" is to advance the understanding of feedbacks between the climate and the carbon cycle. At the workshop in Bern, an extended carbon cycle feedback framework was developed and tested against available CMIP5 model simulations, and will be tested against CMIP6 simulations at a later stage. A position paper on "An extended climate-carbon cycle feedback framework to analyse Earth System Models projections" was outlined as a result of the very successful meeting.
Early Instrumental Meteorological Data
On 18 – 21 June, an international conference and workshop on early instrumental meteorological was hosted by Stefan Brönnimman (Climatology group) and Christian Rohr (Environmental History and Historical Climatology group). The conference attracted more than 50 scientists, further participants and speakers joined the conference remotely. The presentations covered all continents (the participants came from 23 different countries) and revealed not only how many meteorological records have been digitized in recent years, but also how much more could potentially become available. The goal of the subsequent workshop then was to start the process of creating a global inventory of all potential climate records prior to 1850. This inventory should include not only the already digitized records, but also all the ones we know of, but have not yet been digitized or even located in archives. Such an inventory will help to prioritize data rescue work and eventually should form the basis for extending observation-based large-scale climate data products back to the 18th century.
Young Researchers Meeting 2018
On 14 – 15 June 2018, the OCCR's traditional Young Researchers Meeting took place in Aeschi in the Bernese Oberland. 45 PhD students from the University of Bern, ETH Zürich and other institutions were very actively engaged in discussions on the controversial topic "Climate action for Climate Scientists – How (not) to communicate, advocate and take action for climate". Questions raised included: Scientists have warned about drastic effects of climate change for decades, to no avail so far. Is this true? Have we failed in communicating our results? How to best move society towards the 2-°C goal? What would efficient climate advocacy be? Should we focus on technological rather than societal changes? And what is our role as (young) climate scientists? The discussion was fueled by keynote lectures and workshops. Among the speakers were OCCR president Thomas Stocker, Fritz Sager, a professor of Political Science at the University of Bern and Jacques Mirenowicz, a former neuroscientist turned climate activist (Artisans de la transitions, Fribourg).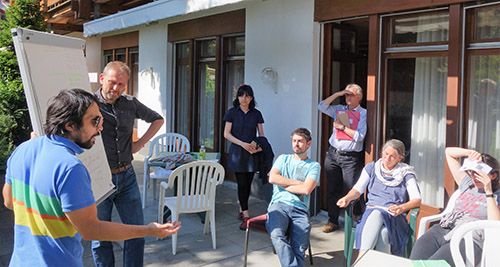 Climate Reconstruction and Impacts from the Archives of Societies
On 1 – 2 October 2018, a workshop called "Methods and interdisciplinary communication in historical climatology" will take palace at the University of Bern. This meeting is the first event within in the framework of the PAGES Working Group Climate Reconstruction and Impacts from the Archives of Societies (CRIAS). One of the four leaders of this Working Group is Chantal Camenisch from the OCCR's Environmental History and Historical Climatology group (read a profile story on Chantal entitled "Double challenge for the intrepid"). The aim of the 1st CRIAS workshop is to evaluate and integrate different methodological approaches from historical climatology over all historical periods and geographical regions, and to identify and disseminate best practices in the field. Additionally, it aims to promote interdisciplinary collaboration between historical climatologists and (paleo)climatologists, especially by identifying ways to effectively share historical climatology data and combine historical and paleoclimate information in highresolution reconstructions. Programme and registration.
People
Margret Möhl leaves the OCCR for retirement
Martin Grosjean, the OCCR's director, couldn't hide his emotions when he bade farewell to Margret Möhl. "Now, the moment I was dreading since we started working together in 2001 has arrived", he said during a reception for Margret in the vineyards high above lake Biel. Indeed, Margret, a trained geographer, was the soul of first the NCCR Climate's and then the OCCR's management office. She remained ever calm even in turbulent times and run our institution's budget with meticulous care. We will miss Margret's interest in all the OCCR's work and her uplifting mood. If you are a bicycle enthusiast as she is, you might easily meet her on a grand tour through Europe one of these days fully equipped with a tent and cooking gear.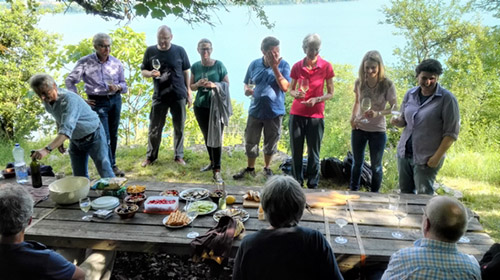 ERC Advanced Grant for Stefan Brönnimann
Stefan Brönnimann (Climatology group) receives a grant of 3 million Swiss francs from the European Research Council for the next five years. The goal of the project PALAEO-RA is to produce a comprehensive reconstruction of global climate of the past six centuries, a palaeo-reanalysis. The reconstruction will provide globally complete, three dimensional monthly fields of many variables and thus allow dynamical interpretations of past climate events. The project combines numerical modelling and mathematical techniques with historical documentary data and measurements, and dynamical analyses. Read a story entitled "The Climate Detective" on Stefan's successful bid published in Berner Zeitung.
IPA Outstanding Service Award for Oliver Heiri
Oliver Heiri (Aquatic Paleoecology group) has received the IPA (International Paleolimnology Association) Outstanding Service Award at the 14th International Paleolimnology Symposium, which took place in Stockholm from 18 to 21 June 2018. This award is intended "to honour those who have made the promotion of paleolimnology possible through their committed, effective and sustained support of paleolimnology research".
Heli Huhtamaa awarded Young Researcher Award
Heli Huhtamaa (Environmental History and Historical Climatology group) was awarded the University of Eastern Finland's Young Researcher Award 2018. She did her PhD in joint-supervision with the Graduate School of Climate Sciences, University of Bern. The award criteria emphasize a high-level doctoral dissertation, a multidisciplinary and innovative approach combining various methods, positive career prospects, and international collaboration. The laudation for the award reads "Huhtamaa's doctoral dissertation offers a new and comprehensive perspective on the link between climate, crop yields and hunger in medieval and early modern North-East Europe".
Best poster award for Sandra Brügger
Sandra Brügger (Terrestrial Paleoecology group) was awarded the prize for the best poster for her presentation entitled "5000 years of frozen vegetation and fire dynamics in the Mongolian Altai" in the field of geosphere/biosphere at the Swiss Global Change Day 2018. About 60 posters were presented at the event in the categories Atmosphere/Hydrosphere, Geosphere/Biosphere, Human Dimensions/Sustainability. The best posters in each field were selected by a jury and honoured with a travel award of 1000 CHF each.
Bernhard Bereiter provides cover image for RCM
Bernhard Bereiter (Past Climate and Biogeochemical Studies on Ice Cores group) provided the cover image of the 30 May issue of "Rapid Communications in Mass Spectrometry" The cover image shows an ice sample with trapped air and is based on the research article New Methods for Measuring Atmospheric Heavy Noble Gas Isotope and Elemental Ratios in Ice Core Samples.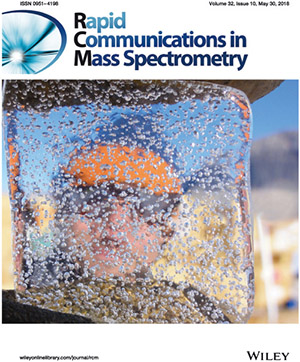 Krystyna Saunders is the OCCR's new visiting scientist
Geographer and ex-OCCR Member Krystyna Saunders (Lake Sediments and Paleolimnology group) will stay with her former group in July and August 2018. She is now an environmental researcher with the Australian Nuclear Science and Technology Organisation ANSTO. During her stay as a PostDoc with the OCCR, Krystyna had been awarded a personal Ambizione grant by the SNFS to promote junior researchers. Her project "High resolution reconstructions of climate variability in the sub-Antarctic during the last two millennia" was based on field work on Macquarie Island in the South Pacific.
A new face in the OCCR management team
Cornelia Kehl has just started work with the OCCR secretariat. She will replace Monika Wälti who will retire this summer. In her career in administration and human resources, Cornelia has worked, among other positions, with the InselGruppe AG, Unviversitätsspital Bern and at the University of Zurich, Institute of Molecular Cancer Research.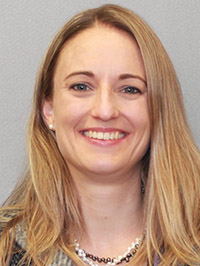 Researchers who have recently joined the OCCR:
| | |
| --- | --- |
| | Jean-Elie Fontaine-Lagrand is a new PhD student with the Earth System Modelling – Climate Dynamics group. In his PhD, he will explore the production, migration and release of noble gases in soil and rock minerals. Focus is the radioactive Ar-37 isotope, which is one of the key indicators for the detection of clandestine nuclear explosions in the frame of the CTBTO verification regime. His investigations will include neutron activation experiments in the laboratory in combination with nuclear production calculations. |
| | Rafael Morand is a new scientific staff member with the Earth System Modelling – Climate Dynamics group where he will work as a laboratory technician. He will be in charge for the argon separation of atmospheric air samples which originate from different stations all over the world. |
| | Tim Raupach has started a PostDoc with the Mobiliar Group for Climate Impact Research. He did his PhD at the Environmental Remote Sensing Laboratory of ETH Lausanne. |
| | Michael Schibig has started a PostDoc with the Environmental Isotopes and Gases group. He did his PhD at the Climate and Environmental Physics Division of the University of Bern and has now spent 1.5 years at NOAA in Boulder as an SNF Early PostDoc fellow. In his new position, he will be responsible for continuous and flask sample gas measurements within the ICOS-CH project. This project is embedded into the Integrated Carbon Observation System Research Infrastructure (ICOS RI), which integrates atmosphere, ecosystem and ocean greenhouse gas observations to provide timely and reliable data for research, policy making, and the general public. |
| | Patrick Schläfli is a new PhD with the Paleoceanography and marine biogeochemistry groups. He gained his Master's in Geosciences - Environmental Dynamics and Georisks at the University of Leipzig. |
A warm welcome to all of you!
Researchers who have recently left the OCCR:
Denica Bozhinova was a PostDoc with the Earth System Modelling - Atmospheric Dynamics group.
Stefan Hunziker was a PostDoc with the Climatology group. He is now with the forest dynamics unit at WSL Birmensdorf.
Mikhaël Schwander, who was a PostDoc with the Climatology group, is now becoming a forecaster with MeteoSuisse at Geneva.
Melanie Sütterlin was a PostDoc with the Climatology group. She has joined the Konferenz der Kantonalen Geoinformationsstellen KKGEO, Bern.
Simona Trefalt was a PostDoc with the with the Mobiliar Group for Climate Impact Research. She now works at the Locarno office of MeteoSwiss.
Malin Michelle Ziehmer was a PostDoc with the Environmental Isotopes and Gases group. She is now a scientific collaborator with the Forschungsdatenbank ETH-Bibliothek, Zurich.
All the best for your future career!
Recent journal publications by OCCR members
See all the publications by OCCR members.