General News
Events
People
General News
Update on Swiss Climate Scenarios CH2018
Several OCCR research groups have contributed to the CH2018 initiative launched in November 2015. The initiative is built upon a nation-wide scientific network and aims at updating and extending the preceding Swiss Climate Scenarios CH2011. The new scenarios will be based on the latest set of European climate model simulations from the Coordinated Regional Climate Downscaling Experiment (CORDEX) and put in a long-term perspective of observations. Currently, the scientific report of the Swiss Climate Scenarios CH2018 is under external review. The data, the report and a web-platform will be released in October 2018.
ProClimFlash re-launched as Swiss magazine for climate and global change
ProClim is the Forum for Climate and Global Change within the Swiss Academies of Sciences (SCNAT). It serves as an interface for communication between science, public administration, politics, economy, and the general public. It has just re-launched its magazine ProClimFlash to which the OCCR regularly contributes. Starting with the first edition of the redesigned magazine, we will provide Flash readers with news from the Oeschger Centre on a double page. If you are not yet registered with ProClim, do so and automatically get their informative biannual publication and other useful information.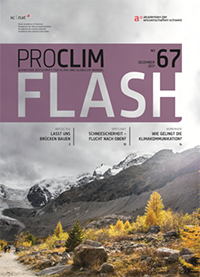 Climate Change Education and Science Outreach
The OCCR is part of an initiative called "Climate Change Education and Science Outreach" which is developing novel and innovative bases for teachers to convey the challenges of climate change in their classrooms. Part of the CCESO are the Pedagogical Universities of Bern, Lucern, and Lausanne as well as representatives of ProClim and the OCCR. The OCCR is represented by science officer Peter Stucki (Management Centre).
Climate change night on national TV
On 29 November, Swiss public TV channels in the four national languages aired a special, four hours long program on climate change and its consequences for Switzerland. Part of this climate change night called "+3" was an online chat in which climate researchers answered questions of the audience. In this panel, the OCCR was very well represented with four climate experts, namely: Stefan Brönnimann and Jörg Franke (Climatology group), Martin Grosjean (Lake Sediments and Paleolimnology group) and Philippe Thalmann (Adjunct researcher).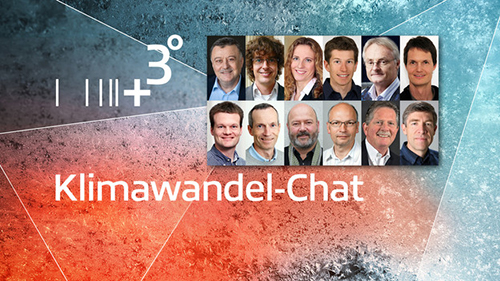 Exhibition "Our Water" awarded Expo Prize
The exhibition "Our Water: Six Models for the Future" at the Swiss Alpine Museum (alps) for which the OCCR was a scientific partner has been awarded the Prix Expo 2017 by the Swiss Academy of Sciences. This prize is awarded to exhibitions and related activities that convey the fascination for nature and sciences to a wide public in a thematically competent and experience-oriented way. The jury commended the "independent, courageous, and radical exhibition on a highly topical theme". "Our Water" has been prolonged until 7 January 2018.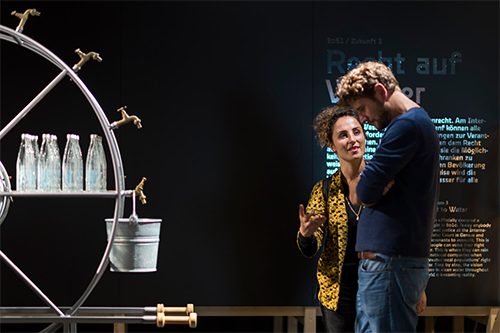 Revision of studies program
The revision of the studies program of the Graduate School of Climate Sciences is on its way. Discussions will start in the first quarter of 2018.
Events
Robert Keohane: highly decorated and curious as ever
On 15 November, the grand old man of American political science, Robert Keohane, held a talk at the OCCR about designing a global climate regime without US leadership. He spoke about the lack of success in international climate policy – also criticizing the performance of his own profession in this field. Robert Keohane is the author of several highly renowned books and has been awarded the Balzan Prize 2016 for International Relations: History and Theory, which was presented in Bern. Read the full story on Bob's appearance at the OCCR.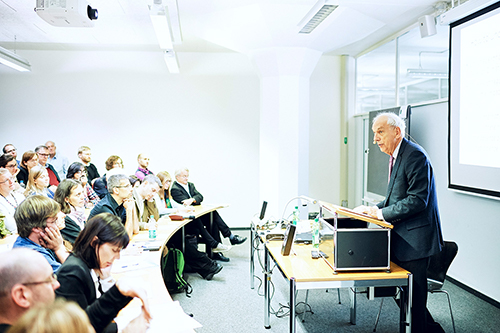 Mobiliar Lab stimulates current discussion on surface water floods
Some 80 flood specialists attended a public event on surface water floods organized by the Mobiliar Lab for Natural Risks and the OCCR on 23 November. The representatives of public administration, the private sector (insurances, engineering firms), academia and the media followed talks on research, modeling and mapping of surface water floods as well as prevention strategies. The discussion turned around the need for specific hazard maps, a better understanding and awareness of a process that causes half of all flood damage claims in Switzerland. The Mobiliar Lab for Natural Risks, in co-operation with several partners, is thus working on a handbook which will provide, for the first time, a comprehensive overview of the existing assessment tools for surface water floods.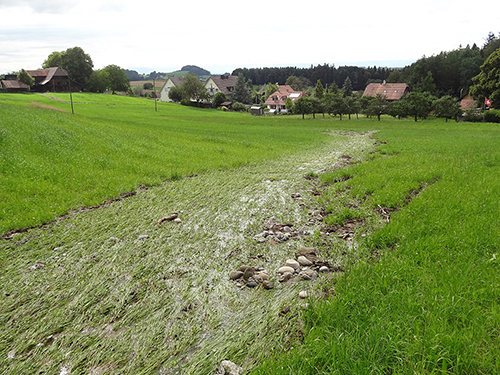 Successful Climate Career Evening
The 2nd OCCR Climate Career Evening organized by the Graduate School of Climate Sciences and the Climate Sciences Student Council took place on 26 October. It brought together current students and members of the ClimateAlumni network who spoke about their different career paths; be it as PostDocs in Europe or the US, in the re-insurance or in the engineering sector, in public administration, or with an NGO. The exchange between former and current Graduate School students kept being vivid and inspiring for both sides during an apéro which followed the presentations.
A festive event for Gunter Stephan
On 7 February 2018, the OCCR will organize a colloquium in the honour of Gunter Stephan (Environmental and Climate Economics group). Gunter Stephan's history with the Oeschger Centre is a very long, diverse and successful one. We would therefore like to accompany his becoming a Professor Emeritus with a festive event. See details and registration.
OCCR Plenary Meeting on 15 February 2018
The next OCCR Plenary Meeting will take place on 15 February 2018 (14:00 – 17:00) at Uni Tobler, Lecture Hall F 021. Save the date!
CSSC general assembly on 27 February 2018
The general assembly of the Climate Science Student Council (CSSC) will take place on 27 February 2018, 17:15 – 18:00. Please save the date! Founded in September 2015, the CSSC represents the Master and PhD students of the OCCR. The CSSC's role is both academic and social. Academic tasks include promoting contact between the students and faculty staff, advancing the exchange of knowledge between students through the Knowledge Pit and improving the quality of the MSc Climate Sciences program.
Summer School 2018 on earth system variability
Don't forget to register for the International Swiss Climate Summer School 2018. Deadline for application is 10 January 2018. The Summer School will take place in Grindelwald from 26 to 31 August 2018 and will focus on the theme "Earth system variability through time". In its 2019 edition the Summer School will evolve around topics related the global carbon cycle covering scientific aspects (atmosphere, ocean and continents in regard with the carbon cycle) as well as the economic side of the issue.
Next Apéro Series event in February
The next edition of the "Apéro Series" for young researchers will be hosted by the Lake Sediments and Paleolimnology group. It will take place on 23 February 2018, 16:00–18:00 at the group lab. Please save the date. More detailed information will follow soon. The OCCR "Apéro Series" are an informal get-together organized by PhDs of different research groups in turns. All OCCR PhDs and PostDocs are invited to join for a presentation of individual research projects of the hosts followed by drinks and snacks.
Early instrumental meteorological series
On 18 - 21 June 2018, Stefan Brönnimann (Climatology group) and Christian Rohr (Environmental History and Historical Climatology group) will host a conference and a workshop on early instrumental meteorological series. The goal of this event is to discuss the state of knowledge on early instrumental meteorological series from the 18th and early 19th century. The first two days will be in conference-style and will encompass invited talks from different regions of the world (including participation by video call) on existing compilations and on individual records, but also on instruments and archives as well as on climate events and processes. The third and fourth days target a smaller audience and are in workshop-style. Registration and abstract submission are due by 15 March 2018.
People
Thomas Frölicher appointed as SNF Assistant Professor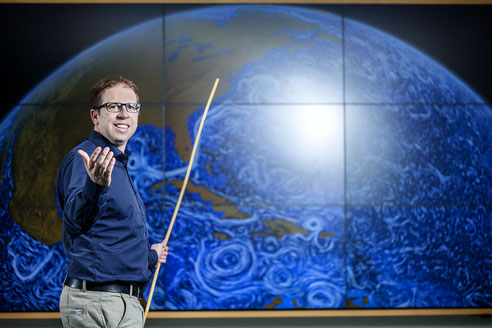 Thomas Frölicher has been appointed as a SNF Assistant Professor at Climate and Environmental Physics at the University of Bern. He is a member of the OCCR and is now building up is own Ocean Modeling research group. Thomas' personal website states: "The overarching objective of my research vision is to develop a modeling framework that brings together the physical, biogeochemical and ecological aspects required to gain a mechanistic understanding of the fundamental drivers determining the uncertainties in ocean ecosystem-carbon-climate projections." His current research is focused on a project called "OceanX - Ocean extremes in a warmer world: Discovering risks for marine ecosystems". Thomas studied Environmental Sciences at ETH Zurich and did his PhD at Climate and Environmental Physics, University of Bern. He then worked as a PostDoc at Princeton University and was an Ambizione Fellow at ETH Zurich. Thomas is a Lead author on chapter six of the IPCC Special Report on the Ocean and Cryosphere in a changing climate.
Oliver Heiri appointed as Associated Professor
Oliver Heiri (Aquatic Paleoecology group) has been appointed as Associated Professor for Geoecology by the University of Basel. The biologist and paleoecologist joined the OCCR in 2010 to establish a new research team. His aim was to reconstruct the emission of the greenhouse gas methane in lakes at the end of the last ice age with an innovative approach using midge larvae. Oliver came from Utrecht University in the Netherlands after having been awarded a prestigious starting grant for outstanding young scientists by the ERC. What prompted his move to Bern, he said, was the outstanding scientific milieu at the Oeschger Centre. "Working with specialists in various areas benefits my project enormously – that is what persuaded the people responsible at the ERC to consent to the transfer to another university". Oliver will take up his new position in Basel in August 2018.
Sönke Szidat appointed as Associated Professor
Sönke Szidat (Laboratory for the Analysis of Radiocarbon with AMS (LARA)) has been appointed as Associated Professor (Assoziierter Professor) by the University of Bern. Sönke is a senior lecturer at the Department of Chemistry and Biochemistry (DCB) and head of the LARA, which was established at the joint initiative of the OCCR and the DCB in 2013.
Early PostDoc Mobility fellowship for Carol Adolf
Carole Adolf (Terrestrial Paleoecology group) was awarded an Early Postdoc.Mobility fellowship by the Swiss National Science (SNF). These fellowships are designed for PostDocs at the beginning of their career who wish to enhance their scientific profile by working at a research institution abroad. As of February 2018, Carole will join the Long-term Ecology Laboratory at the University of Oxford under the supervision of Kathy Willis where she will work on a project entitled: "Combining novel spatial and temporal analyses to assess tropical ecosystem responses to future climate changes". In this 18-months project, Carol plans to combine palaeoecological data with modelling approaches to project future distributions of plant species in the Tropics under different scenarios of climate change.
Eric Strobl strongly advocates interdisciplinary research
In a profile story on the OCCR Website, Eric Strobl tells how, after serving as a lecturer and associate professor at various French universities, he has landed at the University of Bern, where he took on the newly created endowed professorship for climate and environmental economics. It's a position that will involve close collaboration with the OCCR. What attracted Eric to Bern was the "great openness" in terms of interdisciplinary collaboration: "Most interdisciplinary institutions don't work very well. At the Oeschger Centre, on the other hand, people don't just talk about interdisciplinarity." Read the full story and learn how Eric combines economic and scientific data in his modeling – and discover how he found climate change as a research subject while reading a picture book.
Hubertus Fischer awarded Hans Oeschger Medal
Hubertus Fischer (Past Climate and Biogeochemical Studies on Ice Cores group) has been awarded the Hans Oeschger Medal of the European Geosciences Union (EGU). This medal has been established in recognition of the scientific work of Hans Oeschger. It is reserved for scientists with outstanding achievements in ice research or short-term climatic changes. Every year, the EGU recognizes eminent scientists in the earth, planetary and space sciences, and identifies the awardees as role models for the next generation of early career scientists.
Researchers who have recently joined the OCCR:
| | |
| --- | --- |
| | Tito Arosio is a new PhD with the Environmental Isotopes and Gases group. He did a Master of Sciences and Technologies for Environment and Landscape at the University of Studies Milano-Bicocca, Italy with a thesis entitled "Determination of chlorinated micropollutants emissions in the steel industry as result of new abatement technologies". Tito's PhD thesis is entitled "Triple isotope tree ring research". |
| | Cloé Bouscary is a new PhD with the Quaternary Geology and Paleoclimatology group. She did an Engineering Diploma (Master's Degree) at the ENSEGID – Bordeaux INP, France, with a thesis entitled "Architecture and dynamics of siliciclastic sedimentary systems on the giant platform of North Gondwana: the Ktaoua Group of the Late Ordovician in the Moroccan Anti-Atlas". Her PhD project is entitled "Application of OSL-thermochronometry for determining landscape evolution of the Himalayan foreland (Nepal)". |
| | Marie-Estelle Demory is a new scientific researcher with the Climate Impact group. Marie-Estelle is a senior research scientist at the National Centre for Atmospheric Science (NCAS)-Climate at the University of Reading. She stays in Bern as a visiting lecturer at the Center for Space and Habitability (CSH) and is hosted by the Climate Impact group. |
| | Ashley Dinauer is a new PhD with the Earth System Modeling-Bio-Geo-Chemical Cycles group. She did a M.Sc. in Earth & Planetary Sciences at McGill University with a thesis entitled "Inorganic carbon dynamics in the Estuary and Gulf of St. Lawrence: A source or sink of atmospheric CO2 and factors that control the spatial variability in gas exchange". Her PhD project is on "Modelling ocean carbon-climate feedbacks over glacial-interglacial cycles". |
| | Altug Ekici is a new PostDoc with the Earth System Modeling-Bio-Geo-Chemical Cycles group. His work is funded by the Swiss National Science Foundation (SNF). Altug will investigate the cycle of the stable carbon isotope 13C by further developing and applying the Community Earth System Model. The focus is on the redistribution of the anthropogenic isotope signal between atmosphere, land, and ocean and on the relationship between 13C and carbon sources and sinks over the industrial period. Altug holds a M.Sc. from the Istanbul Technical University and a PhD in Geosciences from the University of Fribourg. During his PhD and early PostDoc phase Altug investigated processes of permafrost soils and worked with various Earth System Models at the MPI for Biogeochemistry in Jena, and at the Universities of Exeter, Stockholm, and, most recently, Bergen. |
| | Dave Janssen is new PostDoc with the Paleoceanography and Marine Geochemistry group. He is a chemist with broad interest in chemical oceanography and earned his PhD at the University of Victoria, BC, Canada. At the university of Bern, he will work on better understanding the marine Cr (chromium) cycle and the processes governing its isotope fractionation. The objective is to develop a novel tool to quantify the export and subsequent sequestration of marine organic carbon into the vast ocean interior. |
| | Woon Mi Kim is a new PhD with the Earth System Modelling - Atmospheric Dynamics group. She did a Master of Science in Integrated Climate System Science at the University Hamburg with a thesis entitled "Statistical Analysis on Drought with a focus on the Southern Hemisphere". Her PhD project within the SNF project "pleistoCEP" is on paleo climate modelling, it is entitled "Earth system modelling of the last 3.5 Millennia: forcing impacts on extreme events" Woon Mi will use the Community Earth System model and new reconstructions of volcanos. The focus of the analysis is on extreme events, such as droughts. |
| | Charlotte Laufkötter is an Ambizione PostDoc with the Ocean Modelling group. She will first investigate the connection between climate change and ocean heatwaves. Later on, Charlotte will start her own Ambizione project on micro plastics and marine ecosystems. She did her PhD at ETH Zurich and then worked at the Geophysical Fluid Dynamics Laboratory in Princeton. |
| | Fabio Magrani is a new PhD with the Quaternary Geology and Paleoclimatology group. He did a Master of Science in Maritime Geology and Geophysics at the Universidade Federal Fluminense, Brazil and is writing a PhD thesis entitled "Spatial patterns of glacial erosion in the Alpine foreland over the last glacial cycle". |
| | Elena Serra is a new PhD with the Quaternary Geology and Paleoclimatology group. She did a Master in Sciences and Environmental Management of Natural Systems at the University of Torino, Italy with a thesis entitled "Paleoglaciological study of the Ahlmannryggen, Borgmassivet and Kirwanveggen nunatak ranges, Dronning Maud Land, East Antarctica, using WorldView imagery". Her PhD project is on "Alpine glacier fluctuations and paleoclimate reconstructions". |
| | Sandra Striegel is a new PhD with the Ocean Modelling group. She did a Master of Science in Marine Biology at the University of Groningen, the Netherlands. Her PhD thesis is entitled "Modelling the risks of extreme events for marine organisms and ecosystems". |
| | Doan Van Cong is a new PhD with the group of adjunct researcher Matthias Erb. Doan did a Master of Science in Plant Protection at the University of Pannonia, Hungary with a thesis entitled "Modelling the local impact of Global warming in Maize (Zea mays)". His PhD project is on "Climate change and biological control by entomopathogenic nematodes: From impact assessment to genetically defined solutions". |
A warm welcome to all of you!
Researchers who have recently left the OCCR:
Heli Huhtamaa, who was a PhD with the Environmental History and Historical Climatology group has moved to Utrecht University in the Netherlands. There she works as a PostDoc in a project led by Professor Bas van Bavel entitled "Coordinating for Life: Success and Failure of Western European Societies in Coping with Rural Hazards and Disasters, 1300-1800." Within this project, her aim is to explore how and why human responses and resilience to climate-related hazards varied among the peasant society in early modern Finland.
All the best for your future career!